Paso Pinot Noir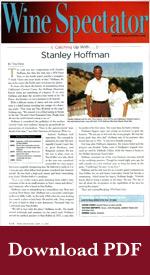 Not long ago (20 Years) Paso Pinot may have been followed by a question mark. Paso Pinot?? The Paso Robles Appellation had grown rapidly with the wines of the past: Zin, Merlot & Cab dominating the information coming out of Paso Robles, mainly because most of the grapes grown here were being sent north and elsewhere to become wine. But quietly, outstanding Pinot Noir was also produced here. One of these was Dr. Stanley Hoffman's, whom along with his consultant Andre Tchelistcheff, (the grandfather of California wine) had concluded that this was an area for Pinot Noir and planted some of the French clones sourced by Andre in the late '60's. The '76 Hoffman Mountain Ranch scored very high in a blind tasting in France and gave International recognition to Paso Pinot Noir for the first time. Others followed as Ken Volk came on line in 1983 and Steve Goldman's York Mountain Pinot Noir began to turn some heads toward the region's ability to produce spectacular Pinot Noirs.
Windward Vineyard was established in 1990 and Ken Volk began making the Windward Pinot Noir at his Wild Horse Winery in 1993. Marc Goldberg and Maggie D'Ambrosia, the owners of the single vineyard Estate-bottled "Monopole" Pinot Noir were dedicated exclusively to that varietal, made in a Burgundian style. Windward Vineyard's 1993 was released in 1995 and began receiving local recognition as a world class Burgundian Styled Pinot Noir. The Paso Robles Vintners and Grower Association wrote an article in their newsletter titled, "Windward Vineyard Puts Paso Pinot Back on the Map" and many of the new and established wineries began including Pinot Noir in their business plans, following the leadership of Ken Volk and others who were supportive of the wonderful Pinot Noirs produced by Stan Hoffman, M.D. and his consultant Andre Tchelistcheff. Adelaida Cellars owns Hoffman's original vineyard, and now along with 23 other local producers with vision and foresight, understood that Pinot Noir would thrive in this Appellation.
Why does Pinot Noir love the terroir of Westside Paso Robles? The secret lies in the diverse microclimates of Paso Robles. On the Westside, a daily 50 degree difference in diurnal temperatures are due to the cooling Pacific Ocean marine influence that flows through the Templeton Gap, (a break in the Santa Lucia Mountain chain). Along with the calcareous soil that was thrust up over 45 Million years ago, Paso Robles has encouraged winemakers to pursue dreams of producing wines that rival those of Burgundy's Cote d'Or.
Inheriting the fruits of the original pioneers' persistence, we are growing in numbers & are part of an emerging story of excellence where harmony & balance are making Paso Pinots a favorite of Pinot Noir lovers worldwide. There are currently over 24 Paso Pinot Noir Producers, now formally The Beaune Rangers of Paso Robles, and they will be pouring their Paso Pinot at the event. Judge for yourself and be able to reply to the non-believer who says, "Paso Pinot??"
… "YES, and it's World class Pinot Noir as well".
Paso Pinot Producers:

Aaron
Absolution Cellars
Ambyth Estate
Adelaida Cellars
Allegretto
Alpha Omega Winery
Ancent Peaks
Asuncion Ridge Vineyards
Barton Family Wines
Bianchi
Calcareous Vineyard
Cali Paso
Castoro Cellars
Cordant
Daou
Derby Wine Estates
Dilecta
Donati Family Vineyard
Dunning Vineyard
Emercy Wines
Fableist Wine Company
Field Recording
Four Lanterns
Glunz Family Winery & Cellars
Herman Story
High Camp Wines
Hoyt Family Vineyards
Hunt Cellars
Indigené
J. Lohr
Jack Creek
Miller Family Wines
Niner Wine Estates
Onx
Opolo
Paso Port
Piannetta Winery
Rava Wines
Riboli Family
RN Estate Vineyard & Winery
Sculpterra Winery
Seven Angels Cellars
Sextant
Tablas Creek
Thacher Winery and Vineyard
Tobin James
Torrin
Le Cuvier
Le Perdignus
Venteux Vineyards
Vino Vargas
Volatus
Warroom Cellars
Windward Vineyard