Pomar Junction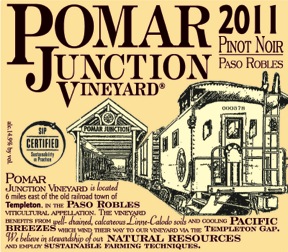 Pomar Junction Vineyard & Winery is a family run winery featuring wines from our family's estate vineyard. The vineyard and Tasting Room is located at the "junction" of El Pomar and South El Pomar Drives, in the El Pomar District of the Paso Robles viticultural appellation.
Pomar Junction's history harkens back to Templeton at the turn of the century, when the El Pomar District was known for almond and fruit orchards, along with a few wine grapes. The Southern Pacific Railroad reached Templeton with its coastal lines and built the town. Marsha Merrill's grandfather, George Grigg, was a longtime Southern Pacific Engineer. To honor that heritage, the Merrills have relocated a boxcar and cupola Caboose adjacent to the tasting room.
Analysis

pH-3.70
Alcohol-14.9
T.A.-.62 g/L
R.S.-0.12%

Production




Cases - 293
Cooperage - 33% New French Oak

Aging - 27 Months
2011 Pinot Noir
100% Estate Pinot Noir
Pomar Junction Vineyard
Winemaker's Note
Planted on the North Facing slopes of Pomar Junction Vineyard's hillsides, this Pinot Noir has more body than most. Influenced by the Templeton Gap, the El Pomar District's warm days transition to mild evenings and cool nights resulting from the afternoon sea breezes. The resulting wine exhibits aromas and flavors of bright raspberry, goji berries, and forest earth. This wine is food friendly and will enhance fish and fowl along with other delicate cuisine. It is a soft wine with low pH and good acidity. It is a wine capable of cellar aging for 5 to 10 years potentially.
It is nonetheless enjoyable earlier as well.
Contact: Matt Merrill
Email: mmerrill@pomarjunction.com
Phone:805.391.3076